---
Welcome to Bricker Publishing!
---
Mission Statement:
Our mission is to advance and strengthen the Wine and Craft Beverage Industry throughout North America and Internationally by bringing together Buyers, Suppliers, Distributors, Manufacturers, and Sellers with diversified incomes connecting all geographical markets. Our editorial content is industry specific from first hand sources providing current, in-depth, innovative, educational and valuable information for producers in their day-to-day operations and future planning.
About Us:
Bricker Publishing is a Full Service Multimedia Publisher catering to the Vineyard, Wine, and Craft Beverage Producers and Suppliers. We are committed to providing the most innovative, high quality, cost-effective marketing solutions and the best customer service available.
History:
We began publishing The Grapevine Magazine™ in 2007 and it is now the #1 Largest circulated and read Viniculture publication in North America. We mail to over 31,000 readers, including Wineries, Vineyards, and Nurseries, as well as hundreds of educational institutions, professionals, researchers and industry leaders.
Our 2nd magazine Beverage Master: Craft Spirits and Brew Magazine™ is a natural addition to our Publishing group. Beverage Master Magazine's target audience is the producers of Craft Brew, Craft Spirits, Mead, Hard Cider and Hard Seltzer. Our premier issue mailed in August 2014 and now has a circulation of 32,000 throughout the United States,  Canada and around the World!
All issues feature original and timely editorial content provided by dozens of both Contributing experts and seasoned Staff Writers. In addition, each issue contains the latest advances in products, trends, and new equipment, plus, returning columnists sharing their business expertise in the Legal, Marketing, Tax, Financial, Production and Technical fields.
Our 3rd magazine, IOWA Trails & Tales Guide's, focuses on bringing the Consumers and Tourists to the States' 230+ Wine and Craft Beverage Producers with the added benefit of promoting the state's multiple Craft Beverage Trails.  Our Mission is to highlight Iowa's Craft Beverage Producers by providing Visitors with the best information to find and connect with both the Producers and support surrounding Community Businesses.  IOWA Trails & Tales readership consists of Consumers, Visitors, Tourists and Craft Beverage Enthusiasts who are interested in Iowa's craft beverage history and sample all the craft beverages Iowa's Wineries, Breweries and Spirit producers have to offer. 
IOWA Trails & Tales, published 4 x/year, is the only Print and Digital publication committed to providing a comprehensive guide to ALL Wine and Craft Beverage Producers in the state of Iowa!   Our accompanying FREE App is the only one of it's kind in the state of Iowa that includes ALL Iowa Wine and Craft Beverage producers.  We believe it is important to include every craft producer in the state, regardless of marketing budget, for visitors to locate and visit.   FREE to download from our Website, Google Play and App Store, Apple and Android, this App allows you to search and plan your route to any of the  Wineries, Breweries and Distilleries and locate other surrounding businesses to further enhance your trip! 
——————————————————————————————————————–
About Bricker Publishing:  Publishers of the TWO leading National Viniculture and Craft Beverage magazines (The Grapevine Magazine since 2007; Beverage Master: Craft Spirits and Brew Magazine since 2014), Bricker Publishing, LLC is uniquely experienced to understand and promote the Producers of Craft Wine, Beer, and Spirits. 
For More Information Visit Our Website at brickerpublishing.com
Bricker Publishing's staff provides a combined 80+ years of Publishing, Graphic Design, Marketing and Advertising expertise. Our Design Department provides high quality agency style material with over 40 years of graphic design experience.
We provide complete marketing strategies including Print and Web-based advertising, Social Media marketing, and Graphic Design. Bricker Publishing provides innovative, superb quality, and the most cost-effective marketing solutions of any similar publication.
Please click on the magazine cover that interests you to learn more and then contact any of our expert staff to start your marketing campaign!
Jeffrey D. Bricker: President & Publisher
jeff@brickerpublishing.com
Cyndi C. Bricker: Vice President & Editor
cb@brickerpublishing.com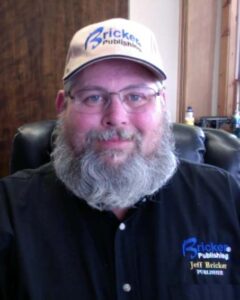 JEFF BRICKER
PRESIDENT, FOUNDER AND CO-OWNER
BRICKER GROUP, LLC & BRICKER PUBLISHING
Jeff is the President and Publisher of Bricker Group, LLC. He served in the Iowa Army National Guard from 1982 to 1988, and then began his career as a Graphic Designer in 1988, establishing Bricker Publishing with over 35 years of Graphic Design, Marketing, Advertising and Publishing experience. Prior to founding Bricker Group, LLC in 2007, Jeff was the Art Director and Sr. Graphic Designer at several other major publishing companies. From 1990 to 2000 Jeff was also the co-founder of Media Associates, a Graphic Design and Commercial Photography studio located in Des Moines, Iowa.
Jeff grew up on a farm near Boone, Iowa where he obtained a vast knowledge of agriculture. His love for the land, along with his deep appreciation for the craft beverage, wine industry and publishing arena, made it a very natural progression to form his own publishing company and introduce The Grapevine Magazine in 2007.  A few short years later in 2014 he launched Beverage Master:  Craft Spirits and Brew Magazine.  Jeff has plans currently underway to introduce several more magazines in the very near future.
Jeff and his wife (and Co-Owner), Cyndi, live with their two Labrador kids, Turner and Levi.